By Gabe Rodriguez Morrison
It looks like the new Model 3 and Model Y may be getting a secondary display soon. In a recent tweet from @greentheonly, it was discovered that the new Model 3 and Model Y models with AMD processors have the capacities for a second display.
Connectors on the circuit board of the AMD powered Model 3 / Y show that it has a connector to power the "2nd display". It is possible that the second display will be in the back of the car like the new Model S and Model X.
New Model 3 and Model Y vehicles have a circuit board that's similar to the ones in the Model S and Model X, but they're not the same, so this isn't just the case of Tesla sharing parts between the two cars and letting the 2nd display port go unused.
According to @GreenTheOnly, a similar situation occurred before, where the Model Y PCB had unused USB3 ports which were then populated in later revisions.
It's possible that Tesla will add a rear display to the Model 3 and Model Y because it becomes a big selling point for Tesla.
The rear display gives you convenient features such as the ability to turn on rear seat heaters, and adjust the cabin temperature. It also allows you to manage music in the vehicle as well as some additional entertainment options such as play games and stream movies from Netflix, Disney + and more.
And while games and movies on the vehicle's main screen can only be used while parked, on the rear display your passengers are welcome to watch movies on the way to their destination.
This is a compelling feature and it'd actually cost Tesla little to add since the 8 "display is powered by the same hardware as the center display.
Alternatively, it is possible, but unlikely, that the second connector will be used for an instrument cluster display including speedometer, temperature, GPS, and battery information behind the steering wheel.
Similar story played with original ModelY with unpopulated USB3 that then got populated in later revision.

Also retrofit for intel cars definitely looks impossible – totally different power and other harness and thickness of the unit.

New power connector seems Tesla-made pic.twitter.com/aEWgBYUBqr

– green (@greentheonly) April 16, 2022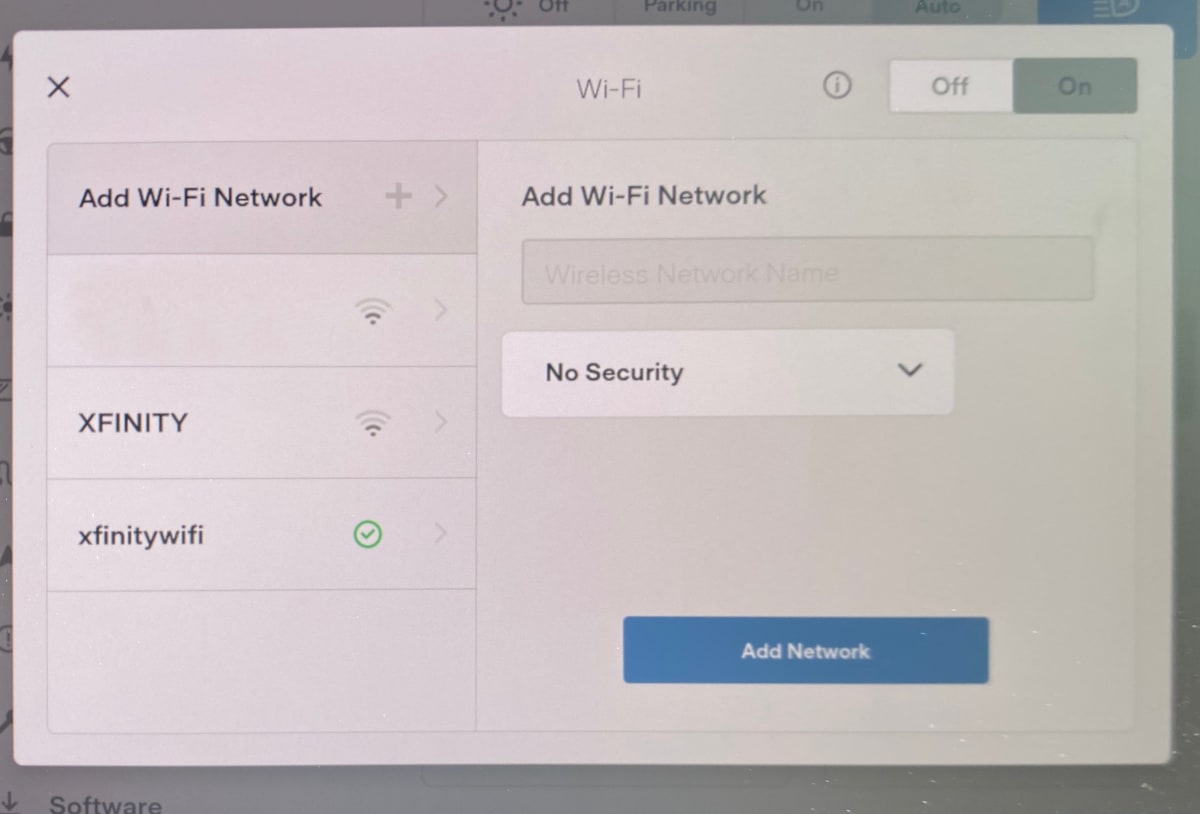 Tesla has reportedly started testing a new feature for its Fleet: the ability to connect to ISP provided Wi-Fi networks.
Connectivity is an integral part of the Tesla experience, enabling vehicles to receive software and navigation updates periodically, access entertainment options, as well as allowing the company to receive valuable data collection from the Fleet, used to improve features such as Autopilot.
Although Tesla initially provided a free internet connection, as the Fleet developed, the company began to require a new paid Premium Connectivity package for a monthly subscription in order to access some of the most data-intensive services, such as streaming music and video. Tesla owners have had to pick whether they want to pay $ 10 per month for premium connectivity since then.
Regardless of whether you pay for Premium Connectivity, almost all features are available for free on Wi-Fi.
The automaker has also continued to look for alternative solutions for their customers, including a recent software update that allows owners to use their phones as Hotspots while driving as a substitute to the connectivity package.
Now Tesla is reportedly working on a new option that involves utilizing internet providers' Wi-Fi networks. Analytic_ETHa Twitter user, successfully enabled the new option in their vehicle:
"New Upcoming #Tesla feature: Free access to public Hotspots from, AT&T, Comcast, Orange, and more! Since late last year, there have been hints in the firmware that @Tesla was looking to support "Public Hotspots". I've been able to enable this feature, and confirm it works! "
He continued to provide more information regarding the feature in subsequent tweets: "First off – for this to work, Tesla needs to enable the feature on your car. Once enabled, your car generates a TPM-based private key for use on these Wi-Fi networks.
After that, you can just select the relevant network and the car will negotiate a connection! On the backend, the firmware refers to Tesla's Product Partners Issuing CA for authentication purposes, indicating that this feature stems from an upcoming partnership "
According to Analytic, the current list of supported hotspot names includes XFINITY, xfinitywifi, CableWiFi, attwifi, att-wifi, AT&T Passpoint, ChinaUnicom, CMCC, ChinaNet, KPN, KPN Fon, Ziggo, Telekom, Telekom_FON, UPC Wi-Free, Upc , UPC WifiSpots, Orange, Orange_FunSpot, SFR, SFR WiFi, SFR WiFi FON, SFR WiFi Mobile and Telia wifi1x – all several popular providers in North America, Europe, and Asia.
Although these networks are often open to the public, connecting to them usually requires the customer to be a subscribe to the particular ISP.
Tesla is partnering with the internet providers directly giving you the ability to seamlessly connect to these networks without having to provide credits.
These networks can sometimes be fickle, but Tesla will have the ability to white-list or black-list individual networks based on the location of your car and whether the vehicle was able to sucessfully connect.
For owners without Premium Connectivity, this will give them more locations to stream music and video while potentially waiting, while Charging or waiting for someone near shopping areas.
Even more owners who subscribe to Premium Connectivity, this will give everyone more locations to download software updates, which are usually limited to Wi-Fi.
According to Elon, Superchargers will also receive Wi-Fi connectivity in the future, giving owners even more access.
The ability to connect to the ISP provided Wi-Fi access points will be a very well received addition to the Tesla vehicles, as they receive even more internet-based entertainment features.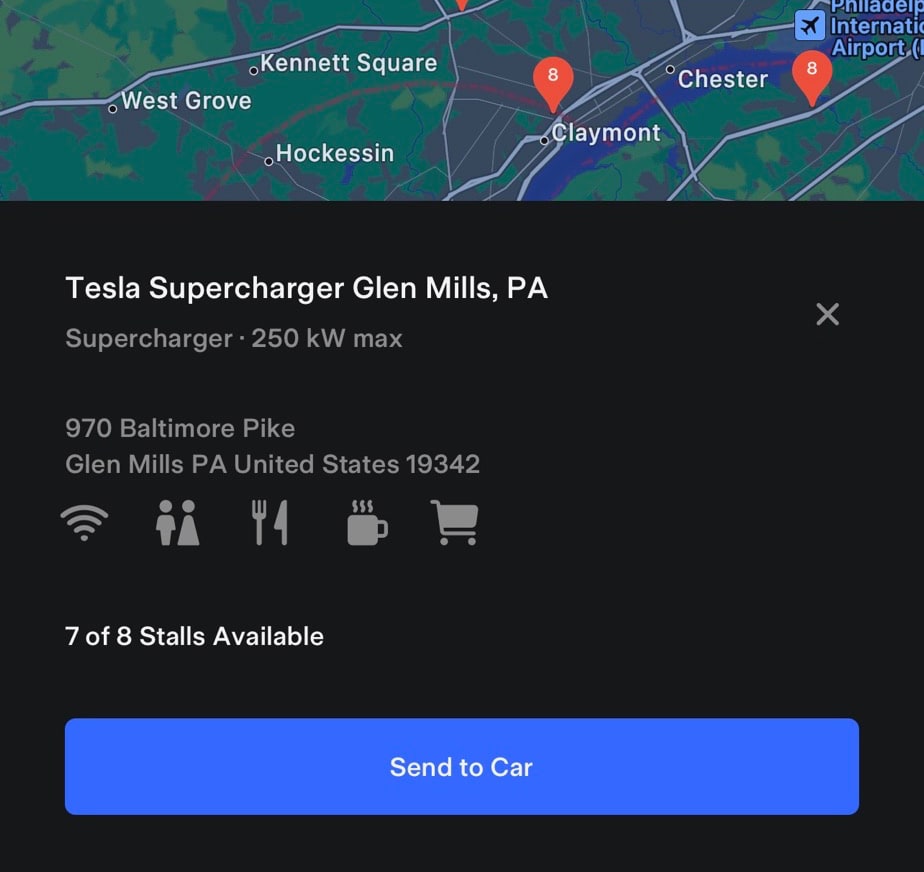 Tesla has updated their app to version 4.8. In the release notes Tesla Mentions the additions of managing your lease in the app and the ability to view Tesla Solar service details.
Several underlying changes in the app hint at upcoming app features, such as supporting filtering by non-Tesla compatible Chargers and the ability for the app to show your vehicle's data without waiting for it to wake up.
The latter will be a huge improvement and will save energy by not waking up your vehicle every time you open the app.
However, there are also several Improvements to the list of Chargers that are displayed in the app.
Superchargers List

When viewing the list of Superchargers under location, you'll notice that the name of the Superchargers is now more descriptive, instead of just showing the name of the town.
The list of nearby Chargers has also increased from four up to ten.
Superchargers Speed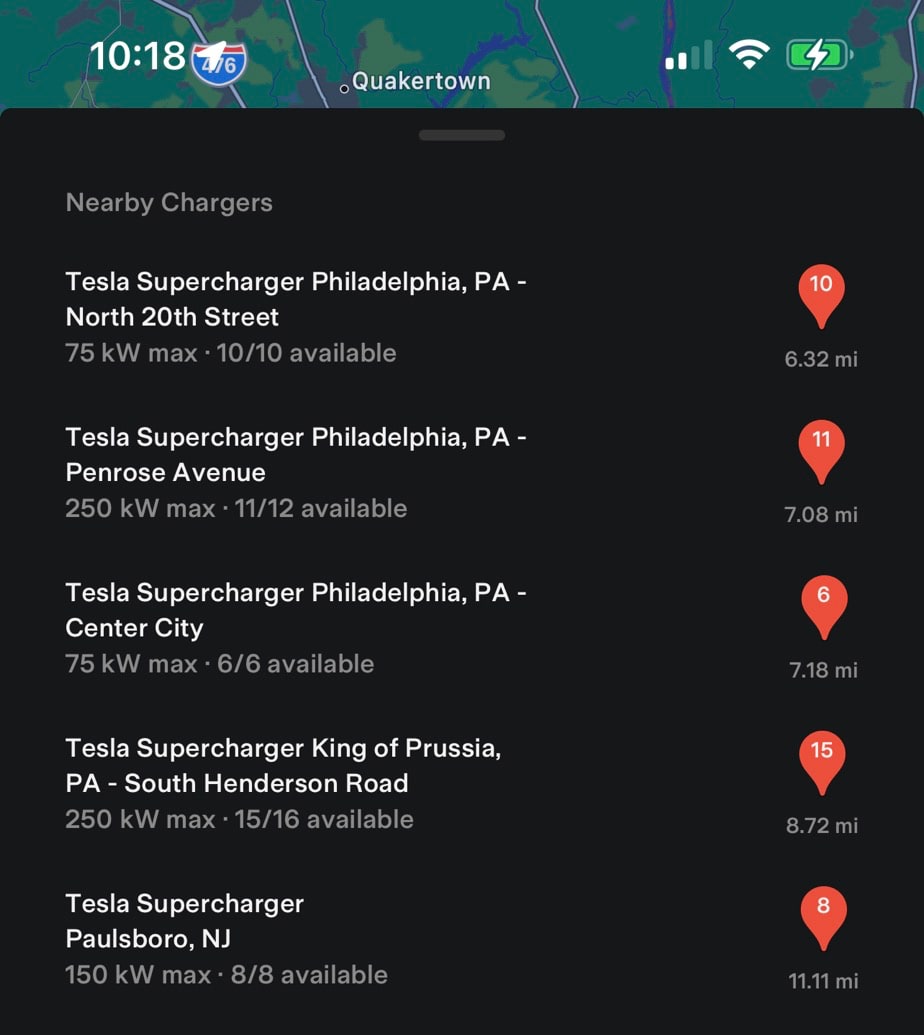 In the same list, you'll now be able to view the maximum power output of each location, letting you easily pick between destination Chargers, v2 or v3 locations.
Superchargers' output details appear to be limited to the US at the moment, but we expect this to expand to other regions as the data is already available on Tesla's website.
Supercharger Details

In addition to displaying more Superchargers and showing the max output of each location, you can now also tap any location to view more details about a specific Supercharger.
Similar to the data shown in the car, the app will now display additional information about each charger, such as the address of the Supercharger and nearby amenities, such as Wi-Fi, shopping, restaurants, and more.
Unfortunately, not all Supercharger information that is displayed in the vehicle is shown in the app yet. The obvious two omissions are the price per kW and idle fee information.
This update should make choosing a Charging location easier and we hope to see this available in other regions soon.
.