As the Popularity of houseplants continues to show no sign of abating, there will also be a new section devoted to indoor growing, including workshops and a display of the wide array of plants that people can try growing in their homes.
As for what can be grown in the garden, Sustainability is set to be a key theme. Anthony Sharples and Alistair Kirkpatrick, of Akas Landscape Architecture, are exhibiting a new version of the garden (in the Boutique Gardens category) they were going to create for the canceled 2019 event.
While their Coming Soon exhibit with its dystopian scene of a plant-engulfed house slumping into water was Originally designed to evoke rising sea levels, you now can't look at it without also being reminded of the sort of collapse we witnessed during the recent NSW and Queensland floods.
Sharples says its message holds true for all aspects of climate change. "We are hoping people look at this garden and make a connection between their home and the climate crisis and how a garden can contribute to create a future that is more bright."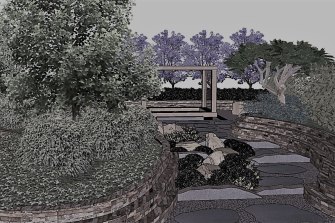 Sharples says incorporating a wide range of plants, especially low water-use ones, using little or no impermeable paving and incorporating water to attract Insects, Birds and other animals are all ways to create Habitat and enhance the biodiversity within urban spaces.
Loading
"After everything we have gone through over the last two years, everyone's eyes are open and hopefully people are listening. It will be nice to put something out there to continue the climate conversation. "
Other display gardens that will touch are similar ground include Re-Frame by Emma Powell from Melbourne Polytechnic, an exhibit inspired by the canopy loss that resulted from the extreme storms in Victoria last year. It includes quick-growing pioneer plants and fallen-tree-log seats.
Meanwhile, Resiliencedesigned by Steve Day for the Tree & Shrub Growers Victoria and Mirvac, will highlight how plants can improve Heath and wellbeing and also demonstrate that the most resilient landscapes – the ones that aren't readily thwarted by pests, diseases and can stand up to changing weather patterns – contain a variety of site-appropriate plants.
It can take some experimenting to get everything as you want it, and in another show garden, called Auddesigner Mark Browning will reference the "eclectic" approach taken by his late mother who "proved that a love of plants is almost all it takes".
Browning says his mother had no design or horticultural Qualifications but Possessed "Personality, possibility and a wildly experimental spirit". One of the aims of the flower and garden show is to encourage more of that in all of us.
The Melbourne International Flower and Garden Show is at the Carlton Gardens and Royal Exhibition Building from March 30 to April 3.
Make the most of your health, relationships, fitness and nutrition with our Live Well newsletter. Get it in your inbox every Monday.